Custom In Ear Monitors for Musicians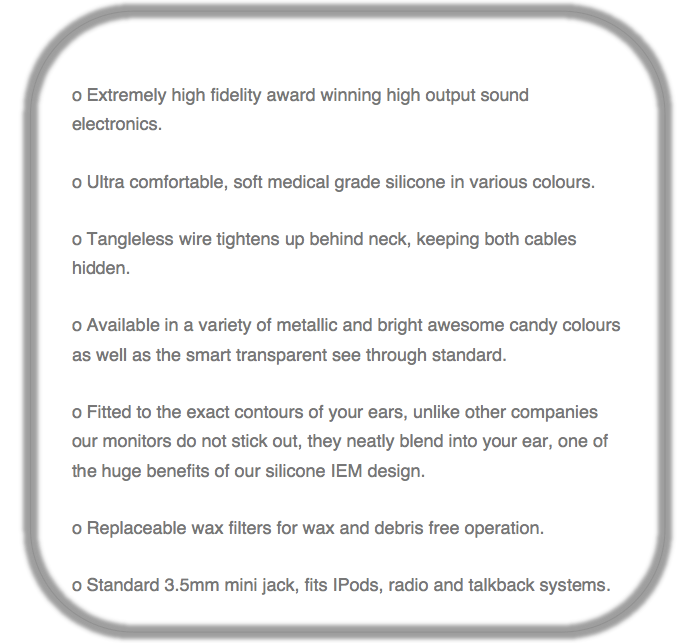 Dual driver Acupass In Ear Monitors (IEMs) for musicians, outside events presenters, camera operators and anyone who needs exceptional sounding monitoring in their ears whilst excluding unwanted volume from the working environment.
Custom Options
Using the same electronics as other brands' high end products, these earpieces are made with either our exclusive Linum cable, or a slightly thicker alternative cable in beige, black or white colour. Using the same medium softness medical grade silicone as our other products, we also offer a variety of colours, the standard popular colour is clear like our presenter earpieces but for those who want to stand out we offer some great colours. These are ordered in pairs for both ears.
High Quality Audio
Using Acupass by Sonion technology, our Music product provides the quality expected by professional musicians, sonically accurate, exceptionally loud and clear reproduction. They fully block the ear canal, blocking out local noise, because of this they are also suitable for anyone working in loud environments, outside broadcasts and on sound stages, etc.
We also use these drivers in our communicator range, the best sounding drivers on the market exceeding triple driver versions so much so, we stopped offering triple driver products.
Two are better than Five? Thinking more drivers means better sound? Think again, bad crossover matching, phase misalignment and other factors make a dual phase coherent driver like the Acupass more sonically accurate than all but the most specially designed IEM's costing in excess of £2000. These are industry standard drivers, we don't charge excessively for something that is not needed. Welcome to Sonion Acupass Technology.
Cable Technology
We are a pioneering company and the first UK company to use Linum cable made by our friends at Danish company Estron. Used for our In Ear Monitoring Music product, we have also used a specially designed Linum cable for our presenter products since 2012, ultra tough, ultra quality electronically, and the thinnest near invisible cable available today.